Howdy, everyone! My newest novel, "Afterliving for n00bs" comes out on the 2nd of Oct 2022. Boy meets girl, vampire meets werewolf, apocalypse cult tries to trash the city and don't forget the Halloween party; it's going to be a busy week.
Now available for pre-order for less than $7CAD.
Check it out at https://amzn.to/3E7teYd
Fiction > Romance > Paranormal
Fiction > Fantasy > Contemporary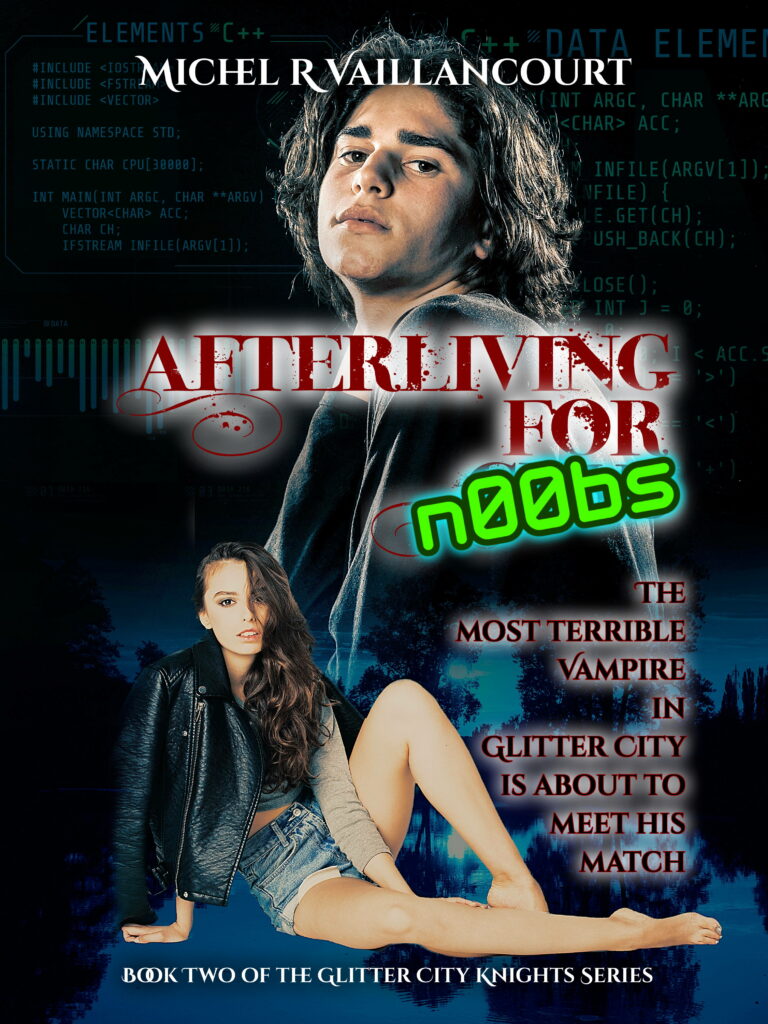 ---
It's the autumn of 1996. Sam Wayne is one of Glitter City's Unwilling Orphan Alumna Afterliving. He's self-described as the most terrible vampire around. He's also hooked into the pulse of the city and the world as an accomplished computer security breaker.
Vangie Forrest is the daughter of one of the most powerful werewolves in the area, with a jealous and possessive mostly ex-boyfriend.
When the two meet by chance in a coffee shop, and go for a spur-of-the-moment walk in the park, things go from puppy-love to save-the-city with a murderous apocalypse cult trying to wipe Glitter City from the map. As the two of them tumble from fights to fast cars to ballrooms to campgrounds, their attraction and affection for each other grows.
Can the two young lovers from different and hostile worlds bridge the gap and remain together? Or, will old habits, old obligations, bitter rivalries, petty disputes and long memories destroy them?
In Glitter City, even a cup of coffee can get complicated, fast.
---
Michel R. Vaillancourt is a 26 year-old with 26 years experience living on the North Shore of Prince Edward Island, Canada.
When he's not bringing undiscovered worlds to life with his novels, he's gaming online, experimenting with aquaponics, fighting with swords, and sharing life and laughter with his family.
This is Michel R. Vaillancourt's third original setting, after his critically acclaimed "Sauder Diaries" series, and the 2018 "Ironclad Exile".
Full bibliography can be found at https://amzn.to/3euTNfE