So, "Afterliving for Artists" was the third novel in the Glitter City Knights series that I got started on in 2022. In fact, the first draft was finished in 2022, totalling over a quarter-million words written for the year on this series.
It's now up for pre-order on Amazon, with release day as February 14th, 2023 — Valentine's Day.
I'm very happy with how the cover art turned out; here's the results of a lot of work: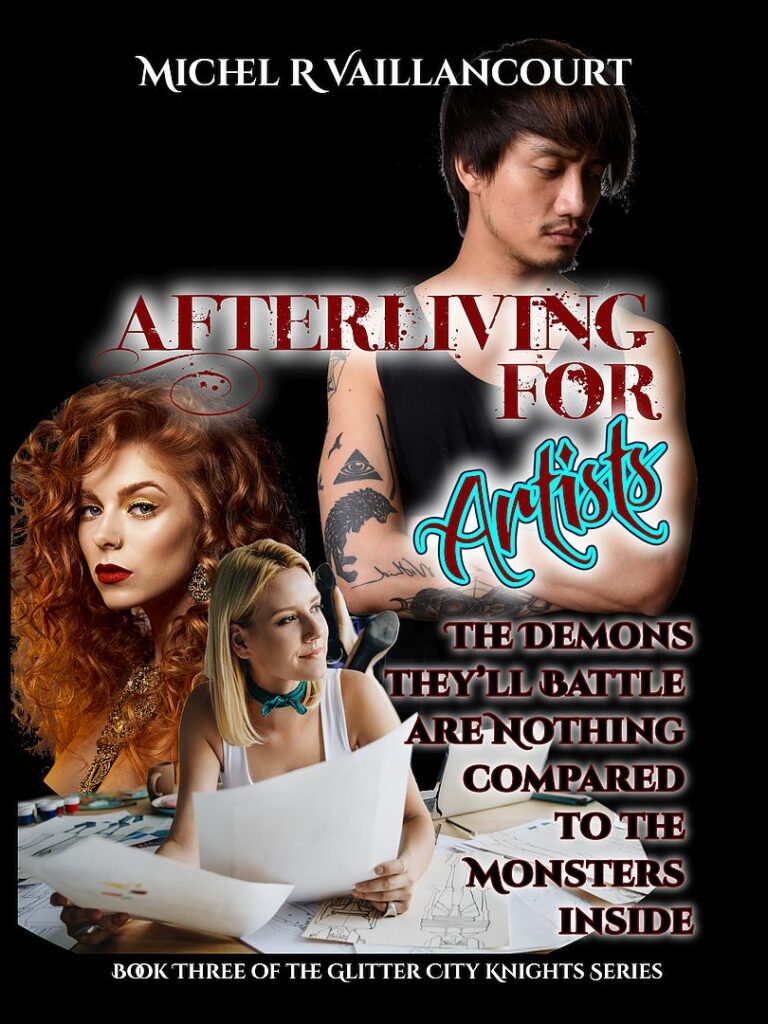 Back Cover Blurb:
Early winter in Glitter City, 1996. Every where else on the Gulf Coast might be finding it chilly, but for the city's Unwilling Orphan Alumna Afterliving, things are starting to warm up nicely.

Anoki Kuwari is a young artist with big hopes for his tattoo and modern art designs. He's bitter and angry at where he is now, and how he got here.

His best friend and artistic collaborator is Tiffany Spencer. She's a rising star on both sides of sunset in fashion design, with her commission work in demand around the world.

When a member of the Magi contacts Tiffany about a potentially culture-rocking commission, the duo can't say no. That plunges the pair into the complex world of plots, deceits and schemes of the Magi culture, and their hated enemies, the Diabolists.

With Demons walking estate halls, and Portals being torn open to other worlds, the only thing the pair can rely is their friendship and trust in each other. As one thing leads to another, and they find themselves stranded outside of Reality itself, the tension adds a spark to the mix, and they can't help but see each other in new ways.

Can the young new lovers stay ahead of the ever-spiraling circumstances? Or will the cruel and infamous monsters that surround them, and walk beside them, end their new romance far too soon?

Nothing is ever easy for the Alumna Afterliving of Glitter City, but sometimes, learning to trust is the hardest.

— Afterliving for Artists
I think of the three stories, this is the one that really did deserve a Valentine's Day release ticket. Anoki and Tiffany might be my favourite characters so far in the series. There is something recognizable in every one of the characters in "Glitter City Knights", but I think I empathize most with these two.
"…It might not be a road I'd have chosen," indeed.
As noted above, "Afterliving for Artists" is now available for pre-order on Amazon . I hope you enjoy reading it and exploring a bit more of the Unseen World of Glitter City.
–Michel