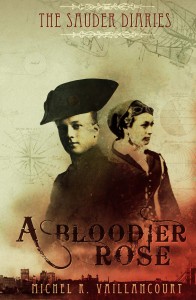 "Set in the summer of 1888, A Bloodier Rose is the second book in The Sauder Diaries series. Picking up where By Any Other Name left off, Hans, Annika and the rest of the crew of the pirate airship "Bloody Rose" are once again called upon by the Allied Empires.  An ancient weather weapon is at risk of falling into the hands of the Russian Empire, and the pirates are on a race against time, traveling from Europe to America then North Africa, to uncover its location and unlock its secrets.

"Along the way, the unthinkable happens and Hans Sauder is forced to reconsider his very place within the crew, and the life he has chosen as an airship pirate. The choices he makes, as the Bloody Rose finds herself trapped between two empires inching towards war, will affect the lives of his friends and crewmates forever."
The release party will include give-aways of four signed copies of the trade paperback, cover art  posters, and coffee mugs. I'll be there to talk with you about Steampunk, The Sauder Diaries, and the new book.
The party will be happening on Twitter at http://tweetchat.com/room/theSauderDiaries as well as on FaceBook at https://www.facebook.com/the.sauder.diaries
Invite your friends and folks you think might enjoy the book! See you there!